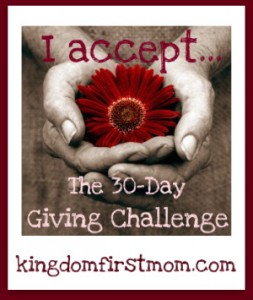 Usually when I "speak" of challenges, especially on my blog, I'm talking about ones that are related to scrapbooking. But I ran across this one from
Kingdom First Mom
called the 30-day Giving Challenge and decided that this is something I want to challenge MYSELF to do. (And I'm blogging about it so you guys will all keep me accountable to it, and maybe even join me.)
Here's how
she
describes it:
"
I invite you to take a leap of faith and give in some fashion every day this month. Think beyond monetary gifts. Couponers, open up your stockpiles. Bakers, share some pumpkin bread with a neighbor. Get creative!

Most importantly, ask God to lead you each day.

Just remember to write it down. Not in a boastful, look-how-generous-I-am kind of way. But to keep yourself accountable and be transformed.
"
SOOO, seeing as how today is November 1st I thought I'd challenge myself, and anyone else who wants to join in, to participate and get to giving. I've already got today's planned and am giving it tonight. ;) And I'll tell ya, I'm trying to think of 30 different ways to give. I'd like to do something different every day. So if you have any ideas, leave me a comment. I'd love to add to my list...
Oh, and you know me, I still have to make in to something scrappy. ;) Instead of the December Daily that's been made so popular by Ali E. (cause I did one of those last year), I'm making a "30 days of Giving" journal with all my yummy Fall papers and product. ;) So stayed tuned. I'll be sharing that with ya soon. ;)
So, anybody wanna join me in this challenge? I'd love to compare notes (or notebooks)!
Oh and Halloween recap coming soon. Still editing pics!
Happy Nov. 1st!