I just want to say thank you all so much for your sweet comments from the Nook Blog Hop. They really make my day! And in case you missed it, here are the winners. Fingers crossed one of them is you!
Carol's Blog: Laurence

Danni's Blog: kim (email renniek....)

Anna's Blog: Debbie (email tiger...)

Nicole's Blog: Ashly (outtahandcreations)

Marinette's Blog: Lillesmor

***

And our grand prize winner is...
.... Dianna Torgersen!!!!

Congratulations ladies!
Also, in case you missed it the April kit is now up at the Nook store and it's gorgeous! As of yesterday there were
only EIGHT left
! So hurry and grab yours!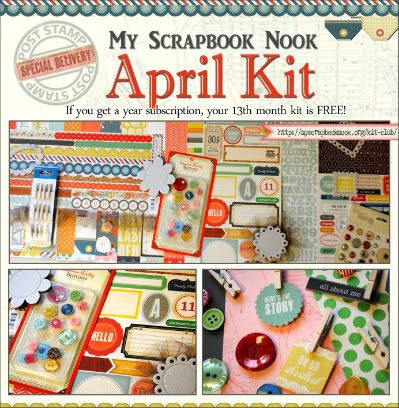 And due to popular demand, we've run out of Grab Bags as previously announced. SO, here's the NEWest new special:

New members who sign up will receive the May kit for FREE and A beautiful October Afternoon Grab Bag Kit. After a year paid subscription your 13th kit will be for FREE! 90.00 Value for free!
And psssst....Pam said she'll be ordering more Grab Bags for May so we shouldn't have this little problem, if you can call it that, next month. ;) But hey, selling out is a GOOD thing! :D
hope you all have a wonderful Friday!