But first a funny story. I took the girls to see Madagascar 2 today because it was showing for free at the Rave. As usual we were running a bit behind, and by the time we'd manuevered through traffic, bought popcorn and found our theatre, my Caroline balked. She saw the dark tunnel, only lit by the tiny blue runway strip of lights, and she was done. Frozen. Wouldn't budge. It didn't help that apparently the movie was at the point where the lions were fighting so all we heard was roars and growling. Poor kid. She was sooooo scared! And me, I couldn't help but chuckle. Bless her heart! Well, then SK chimed in after taking her cues from Caroline and started chanting "it too scarwee! it too scarwee!" So there I was with a overflowing bag of popcorn (who knew that a small would be the equivalent of a large from back in the day?!) and 2 toddler frozen, eyes bulging, too scared to take a step any further. It finally took me 10 min. to talk Caroline into just peeking around the corner to see the actual screen, to see the cartoon, and convince her that the lions weren't real. I carried her through the "dark tunnel" while SK just trailed behind me, not really scared at all. Anyway, it was a funny moment. Frustrating, but funny. And I didn't want to forget the details.
Anyway.....on to the real stuff.....the reveal.
Introducing Urban Anthology's June kit "Puttin on the Ritz"
This month's kit features Basic Grey "Wisteria" and My Mind's Eye "Andrea Victoria". The kit also contains custom designed journaling tags and custom made beaded pins. Here's what I've gotten done so far...
"Sunset stroll"
"Celebrate"
My sorority Big Sis and I at her wedding a couple of years ago.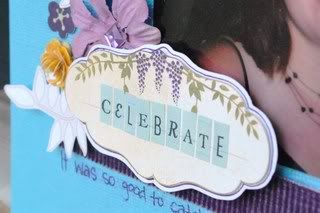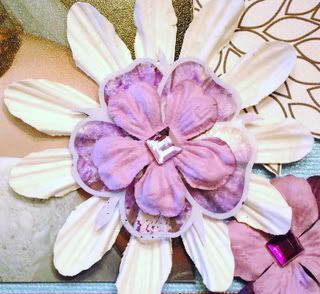 This final close-up is an example of the tinting overlays technique I did for Urban Anthology yesterday. You can see the blog post
here
. I tinted the middle flower, which is a white
My Little Shoebox
overlay, so that it'd be purple instead of clear.
"Easter 09"
Mom and the girls on Easter Sunday.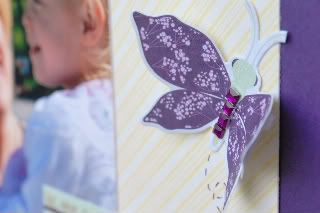 and a card
That's all for now. Gotta meet hubby for lunch! Hope you're have a great day!