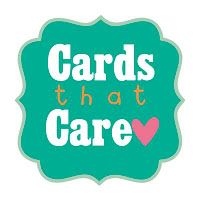 Welcome to the Cards that Care Blog Hop!
You should have arrived here from
Loredana Bucaria's blog
. If not, you may want to start at the beginning of the hop with
Vera Yates' blog
.
The holidays are about family, about kindness, and joy. The holidays are also the times when many of the elderly who lives in nursing homes typically feel loneliness and miss their family. Wouldn't it be awesome if we can bring a smile to their face & brighten their holiday season simply by sharing our love of card making? A simple gesture to let them know that they are not forgotten.
That's what this blog hop is all about!
We all love making cards and what's better than knowing our creations can bring a smile to others? We hope that many of you will help and join us in our effort to spread joy & cheer.
Among the other sponsors of this great event,
Bella Blvd.
wants to do its part as well. Here I've created a card using the "Christmas Wishes" collection to create a whimsical Santa card that will hopefully bring some Christmas cheer.
Products used from
Christmas Wishes
: paper:Gifts Galore, Quadrants, Cute Cuts, and Borders; embellishments: Chipboard Icons, Just Write journaling stickers, Alpah+Bits stickers
And now you can participate too!
Here are a few important details:
This card drive will be going on till November 31, 2011. We will need to receive your cards by November 31, 2011.
Please make the cards for Christmas or Holiday Wishes. Anyone can send a card, your children, church group, scout troops, etc.
All cards need to have a message in it. Please also sign your name and where you are from. On the card envelope, write your name on the top left corner. Also, please don't seal the envelope.
Please stick to just cards. And please don't use any pins (safety reason).
You can mail the cards to either of these addresses:
Jennifer McGuire
P.O. Box 428612
Cincinnati, OH

Vera Yates
P.O Box 17596
Sugar Land, TX 77496

In each package, PLEASE include a piece of paper with your name, address, email address and how many cards you sent. This helps us in keeping track for prizes! For each card you send, you will get a chance. So the more cards you send, the better your chances.
So now get to craftin' and card creatin'! It's for a good cause!
Oh, and hop on over to
Kimberly Neddo's blog
for more amazing inspiration!
Happy Friday everyone!