Hi everyone! There's been a lot going on at the Nook lately, and I've got several announcements and then a big thank you.

First up are the blog hop winners:
Congrats to our winner of the 3 month sub to our gorgeous kits......Kim H!!!! Woot Woot!!!

Here are the 6 random winners pulled from the comments off the blogs:

Zarah: Thicker Prize Pack
Janet Z: 1 Kit
Jenessa: Thicker Prize Pack
Stephanie Eaken: 1 Kit
Cassandra: Thicker Prize Pack
Mag: 1 Kit

Please send us your mailing info at mysrapbooknookdtATyahooDOTcom
Congrats to all you lucky ladies;)
***
The November kit is now up for sale and it is goooooorgeous! Lovely lovely! It is full of Echo Park Times and Seasons: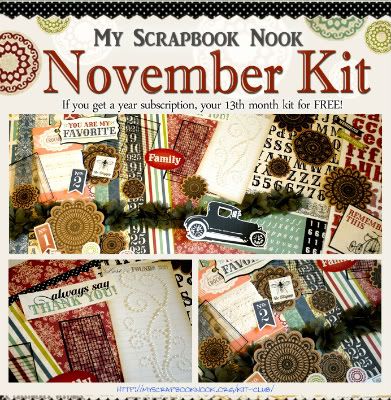 You can snap your kit or sign up for a subscription HERE.
I can't WAIT to get mine!!
Hello Disney pictures, here I come! :)
Also, more big news, the Nook has created a
blog
!!! Woohoo!
And to kick it off, we're have a contest. A CARD contest called Card Sharks. Here's what Leah says about it:
Jump in to deep water with the newest contest at the Nook! Card Sharks is a fast paced, four week battle of creativity to find out who the big fish in our amazing pool of talent it! If you enter, you may find yourself doing swimmingly. . .or you may be in over your head!
There will be four weeks of challenges (two per week, plus bonus games) in an elimination style challenge. With opportunities to be cut from the next round (and brought back!) --will you make it to the last round?
The first challenge is up
HERE
, so go check it out. Oh, and there MAY be a second, bonus challenge posted just a few minutes ago. ;)
K, I think that's about it.
And before I sign off, I just want to say a huge THANK YOU to all the current soldiers, their families, as well as the veterans that have served in our military. Thank you for your service, your sacrifice, and your devotion to our country. I think I've always subconciously been thankful for our military, but it wasn't until I started reading fellow scrapbookers/military wives' blogs did I realize just HOW thankful I truly am. I find myself praying for their deployed husbands while I go about my daily tasks. I rejoice with them when I get to see photos of their sweet reunions. And I read about what it's like to live that life, and I'm THANKFUL that there are people who willing serve our country in this way.
Thank you all. And Happy Veterans Day!