Hi there everyone! I feel like it's been forever since I've blogged, and I guess that's a good thing because I've got lots to share.
First up our my August project for
Serendipity
. This month I had the "I Deserve it all" kit, and it was filled with fun papers from Imaginesce, Bo Bunny, and Sassafras Lass! Here's what I did!
"Wave Dancer"
Caroline at the beach this past Christmas. Yes, I said Christmas. I know we're weird, but we go to the beach after Christmas. Have since I was about 11 yrs. old. It's just our thing. This year it was crazy warm, and we were actually play in the water! (that NEVER happens! Like the only time it's EVER happened in all my 20 years of going to the beach.)
"Penny for your thoughts"
Sarah Kate at the Coolidge Park fountains. I just love her hair in piggies, and those glasses are too fun! I apologize for the horrible lighting/photo of this one. I tried and tried to get it right, but just couldn't get it to work out.
"Happy Baby"
One of my all-time favorite photos of Sarah Kate. She was such a happy baby, still is for that matter! Here I painted the overlays with white paint and sprinkled them with the Doodlebug Sugar Coating (glitter) that comes in this kit! I really love the effect!
******************
Next up is this week's sketch over at 52 Sketches 52 Weeks, and I loooove it!
Sketch #31
My LO using this sketch is still in the making. I'm getting close to finishing but I've decided to use an Scrapbooks Etc. paper piecing (and it's thrown me for a loop).
I never do those, so I thought I'd try one. But if you'd like to see what other DT members did with this sketch you can check them out
here
.
******************
And lastly, it's officially August which means it's
Color Me Daisy
's one year birthday! The DT will be doing a blog hop soon to celebrate so stay tuned! But while you're waiting, here's a peek at what I'm work with right now! ;)
"Celebrate Summer" CMD August kit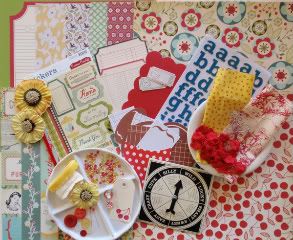 Hope you're having a fabulous Monday!