**beware. I'm playing catch up so this is a long post with LOTS of photos**
Wow. It's been so long (for me) since I've updated my blog, that I have no clue where to begin. Thus the title. I like quirky little things like a cool date. Just kinda fun, I don't know why. I'm not superstitious or "in" to numbers. Just something fun.
Another something fun was our weekend. (bad transition. sorry.) We spent it at the lake, and even though it rained the whole first day, we made the most of it. Both the girls ended up riding the tube for the first time.
True to form "Miss Daredevil" loved it.
And Little Bit was a somewhat shy and timid at first.
She did end up enjoying it though. In fact, the whole thing was all her idea. She'd been begging all summer to ride the tube (and would say "tuuuuuube" every time we passed another boat pulling one), so let her have a shot. Of course we went really slow--like "no wake" kind of slow.
Soon thereafter the girls finally met their baby cousins. Both were taken by them. Caroline was loved being a helper and SK was enamored. She IS our babydoll lover.
The first of many cousin shots
Both boys
Gabe
I hate that his hand is in the way, but I just love his little expression. It's funny that he was the smaller of the 2, did the time in the NICU, and is the one who's got the double chin.
Drew
He cooperated better for his photo shoot, so I got several of Drew that I really like. He's the spitting image of his daddy for sure.
****And now on to scrap stuff. LOTS to share, so please bear with me.****
First up are layouts from the last 2 Treasured Hunt rounds. Unfortunately I was eliminated this week. :( But not before I created 2 LOs I love.
Challenge #4 "Sweet Indulgence"
I shot this photo at the Godiva in the Opryland Hotel last April. It went along with the challenge's theme, "I'm not willing..." Guess you can tell what I'm not will to give up yet. I mean, just look at that truffles!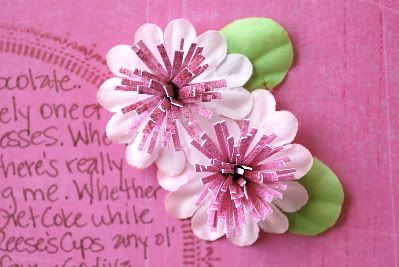 And then this week's challenge.
Challenge #5 "This day"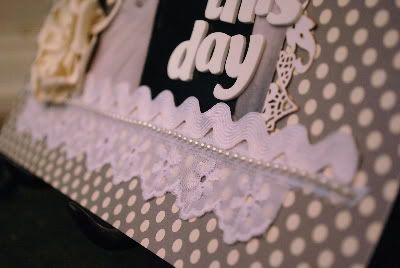 I've been really wanting to re-do my wedding album, and at least this gave me the excuse to start. The challenge was to use "This Day" as the title, and include it in the journaling too. Then also use 3 ribbons, 2 pcs. of chipboard, and 1 brad. I went with the monochromatic look to help create a timeless and classic feel. No more wedding themed stickers for me, or photos cut in the shape of a wedding bell. Nope. I kept this one streamlined and fairly simple, drawing inspiration from my wedding dress details.
And lastly an announcement. I'm really excited to announce that
Urban Anthology
is having a design team call coming up on Sept. 15th. Be sure to stay tuned to the the
UA blog
for details.
And if you've read this far then you deserve one more photo from the weekend. New sunglasses.
Hope you're having a great week!