Here are two more cards I made for this weekend's
My Scrapbook Nook
crop. I used 2 different versions of some
SRM stickers
that say "Hello Sunshine". And since the challenge was to make a sun or sunshine related theme, I chose to use some of my
Fancy Pants
"Beach Babe" stash.
Here they are as a set,
one more masculine than
the other.

Hello Sunshine #1

In addition to the supplies already mentioned, I also used WRMK chipboard, Kaisercraft pearl, MME rhinestone bling, and American Crafts adhesive. (Have I mentioned how much i love their foam squares?!)

Hello Sunshine #2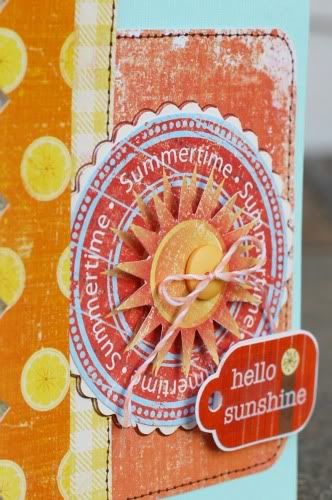 Also used: Bazzill CS, Pink Paislee twine, Basic Grey button and again AC adhesive
And so there ya have it. 2 more cards I made this weekend. For anybody starting to keep count, that's 3 I've shared so far with several more to go! :)
On a more personal note, today I'll referee my first volleyball match. Yea! I'm a little nervous, but I'm hoping it'll all come back to me once I get in the gym.
If you've followed my blog for a longer time, then you'll know that I used to coach volleyball. I LOVED it! Then McClain came at the very beginning of last season, and I had to step down. There was no way I could keep up with a newborn AND a practice/game schedule. And so this year I decided to try my hand at reffing. And let me tell you, it's a whoooole other ballgame. I know it's the *same* game, but it's SO SO different. I have more respect now for other people who ref. (and I feel a teensy bit guilty for "letting them have it" more than I should have. ;) ) So anyway, today's my first day. Hopefully what they say about payback isn't true this time around. ;)
That's all I got.
Happy Wednesday!