Cheesy title I know, but right now I'm lacking in the title department....Anyway, I thought I'd share a few Noel Mignon layouts with you and a couple of my favorite activities we've been up to.
First up is this LO that I did with
Noel
's
"Lemonade Stand"
kit. I'm really loving this color combination right now!
And second is this one using the
"Playdate" kit
. Dad took these pictures of Caroline as she was helping them plant their garden at the lake. She SO has a love of dirt and flowers! In fact, she just surprised me by walking in with a vase full of gardenias she cut from the backyard bush. **big grins** That girl knows her mama! And gardening is something we love to do together!
Speaking of flowers, one of my favorite things right now is Mason jars full of fresh flowers! Nothing quite brightens up my day like homegrown flowers sitting on the kitchen table (and counter tops, window sills, and by the computer desk!)
And lastly, I've been having a love for plaid. Poor McClain is going to have everything plaid if I don't stop myself! There's just something about little boys in plaid (madras or otherwise) that I just love. Love it with cargo shorts, love it as a button-down shirt, and of course I fell in LOVE with
this bedding
from
PBK
. See? I just can't stop! (But I'm not apologizing!)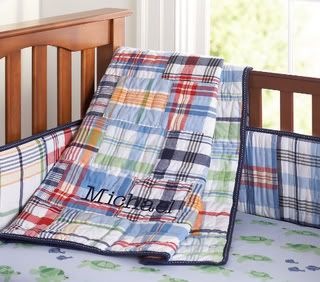 That's all for today! Thanks for stopping by!
Hope you have a happy Monday!